About
I lived in Hong Kong until I was four or five. I spent the next fifteen years in Corvallis, home of Oregon State University and a thriving population of the world's finest grey squirrels. I have now moved to Seattle, which is very nice, but the squirrels are rusty and have thin and scrawny tails.
I have an elderly cat named Autumn, but I call her Fuzzball and she can't do anything about it.
Here I am spending quality time with my cat. We are best friends.
Besides math, I'm also interested in (though not necessarily good at) cooking, web programming, hiking, biking, kayaking, doodling, digital art, Cascadia, and anything to do with Finland. In 2010, I spent a month solo-couchsurfing around Finland and acquired a Finnish vocabulary comprising approximately six words (half of which are profane) but I hope to be fluent in the language someday.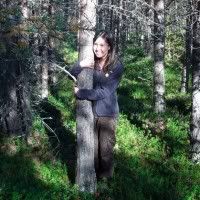 Here I am in Finnish Lapland hugging the trees like an Oregonian.